HAuNTcon 2017 Set to Take Over Sheraton Music City in Nashville the End of January!
Home » Blog » Tennessee's Best Weekend Events, Tennessee Haunt News
January 10, 2017 By Chelsea T.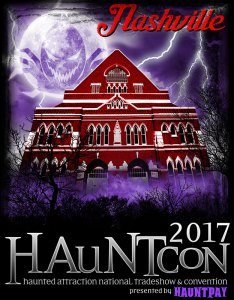 Photo by:
http://hauntcon.com/dominate-this-halloween-season-and-save-big-at-hauntcon-2017/
It may only be January, but HAuNTcon is about to take place at the Sheraton Music City and Conference Center in Nashville from January 26th-30th! The popular expo and conference was created for "by Haunters, for Haunters", bringing them together for a fun-filled, four-day event.
HAuNTcon features a Halloween Tradeshow, Haunter Education, Haunted Attraction Tours, Prop Building Demos, FX Makeup Demos and even a Haunted Garage Sale! But the fun doesn't stop there - attendees can also participate in Networking opportunities and check out the annual Costume Ball.
With an endless amount of Haunt and Halloween vendors, HAuNTcon makes it easy for Haunters to find what they're looking for, all in one place, with some pretty great deals! Don't miss out on the chance to purchase Costumes, Props, Set Designs, Animatronics, Special Effects, Masks, Makeup Supplies and much more - all while marketing and promoting your Haunted Attraction.
Along with vendors, attendees will be offered over 50 hours of HAuNT Education with Business Seminars, Hands-on Workshops, Creative Sessions, Makeup and Product Demos. Learn new techniques, tips and tricks - all included in your admission!
Click here to check out even more information about the 2017 HAuNTcon and purchase your tickets today!