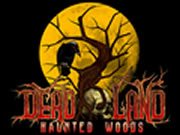 7040 Murfreesboro Road
Lebanon, TN
Details
Average Review

Scare Factor

Very Scary

Appropriate For

Not recommended for kids under the age of 9.

Organization Type

Commercial / For Profit

Listing Categories

More Info

Outdoor Event(s), Touching Not Allowed, Free Parking
Dead Land Scream Park is a one-of-a-kind experience with 3 terrifying attractions open Fridays & Saturday nights in autumn. Each of our outdoor attractions features a walk along a trail in the dark woods with many scares along the way. Along with our attractions, our fresh concessions, a warm bonfire, and a family-friendly atmosphere sets the mood for Halloween fun. We're proud to have grown to become one of Middle Tennessee's most popular haunts - come check out all we have to offer and be prepared to be scared out of your mind!
THE CURSE
Experience The Curse, an unguided half-mile walk in the woods! Every piece of land has a history, but no tract of earth has been enveloped in as much tragedy, death, and darkness as the Walker Family Property. For over 150 years, the bloodlust of Herschel, Buford, and Tommy Walker has terrified the Tennessee countryside. Cursed to exist in a state that is neither alive or dead, bound forever to their land, the Walker Brothers continue to blaze a path of destruction and death, leaving a trail of blood and devastation in their wake. While this land may serve as their eternal prison, nothing can contain their rage and thirst for vengeance. From the moment that you breach the threshold of their property, you become their prey. They will hunt you. They will find you, and you will never forget their names. Never has the world known a force as evil or terrifying as the Walker Brothers. Come experience the legend for yourself. You may not leave alive, but you certainly will not leave disappointed.
THE PORTAL
The Portal - Legends of the Night Have you ever wondered where the stories that haunt your dreams came from? Have you ever wondered the origins of terror itself? Then take a unguided half mile journey through the darkness and come face to face with the legends of the night on The Portal; a terrifying half-mile trek into the very heart of fear. You see, these woods have long been a magnet for paranormal activity, so the discovery of a gateway between dimensions on the property was hardly surprising. Each year at the summer solstice, the gateway is spun on its axis and allows a different dimension to have a doorway into our world. The only way to find out where the solstice has landed the doorway each year is to dare to enter for yourself. In the past, it has opened the gateway to a twisted realm of fairy tales, led many into the domain of movie madness, and been the doorway to the legends of the night that haunt the dreams of millions. Few have lived to tell the tale of who or what lurks past the haunting green lights that mark the entrance, will you be one of the lucky ones who does? Do you dare tempt fate? Do you have the resolve to look fear in the eye and brave the legends of the night? They are simply dying to get new visitors.
THE CRYPT
Get lost in the Crypt... Rumor has it that there is an off man who lives within the Cauldwell Crypt. No one knows much about him other that he goes by Caretaker. Over time the Dead Land ghost have taken residency within The Crypt and the Caretaker tends to their ghoulish demands. The Crypt is an above ground interactive cemetery. Tread lightly and keep a watchful eye out as you walk among the ghosts of forlorn lovers, wicked women, the damned, and ill-fated along your journey and beware of the Caretaker
FREAK OUT ESCAPE GAME
Up to 5 at a time can enter the room to try and solve the puzzle. Once you enter the room, you will be shown a video with the scenario and then given 5 minutes to solve a series of clues that will lead to opening the door. Pay attention, work together and escape the room!!! There are no actors in the escape rooms and are not meant to be scary. We offer two very different puzzle rooms that you may try.
Email Haunt Owner
All photos and videos within this listing are the property of Dead Land Haunted Woods
Email Verified

One of the best trails...

Very fun & scaryy!!! One of the best trails I have ever been to. Could be the longest as well. It was a great team effort. But we had to wait in line for quite sometime which was one thing we had to complain but the rest was fine. The effort was in full display with quite a number of professional scare actors. Makeup was spot on. It made actors look the part. Love to visit again.

| | |
| --- | --- |
| Scare Factor: | |
| Fun Factor: | |
| Haunt Value: | |

Posted May 2019

Curse was good

Absolutely great experience! It is a great place to bring family and friends with funny and thrilling experience. The decors and props used were stunning and well fit the haunt. The attractions were superb and the actors were amazing throughout the haunt. Their makeup and costumes were also been good. Curse was a good attraction and had many scary moments.

| | |
| --- | --- |
| Scare Factor: | |
| Fun Factor: | |
| Haunt Value: | |

Posted November 2018

Best in TN

This is by far the best haunted house in TN! The Dead Lead Crypt was unique and intense scary, not good for children. My personal favourite was the Portal written in blood; especially the library and the librarian.

| | |
| --- | --- |
| Scare Factor: | |
| Fun Factor: | |
| Haunt Value: | |

Posted October 2018

Email Verified

Wanna go again

All three attractions were terrifying. Each was a walk along the woods with a lot of scares you get to face. The actors, sets and overall experience was awesome! Wanna go again.

| | |
| --- | --- |
| Scare Factor: | |
| Fun Factor: | |
| Haunt Value: | |

Posted October 2018

Email Verified

Screaming night

Loved the haunted trails here. Normally I am not a scared person. But this place managed to do just that. You may not see x rated stuff here, but enough spoofs to make you scared. They also had concession stand with food and drinks. You also get a S'mores kit and a stick that can be used in a bonfire. It was crowded and we got split into a group of six. The actors put in their best of effort. They knew the audience well and got us screaming at most of the instance. Waiting for next season.

| | |
| --- | --- |
| Scare Factor: | |
| Fun Factor: | |
| Haunt Value: | |

Posted October 2018

Freaky as hell

Freaky as hell and I loved it. The witchdoctor was totally convincing and we had screaming fun at most of the scenes. Loved the background video. Props and special effects were good. It was a great time here. Had a blast.

| | |
| --- | --- |
| Scare Factor: | |
| Fun Factor: | |
| Haunt Value: | |

Posted October 2018

Had multiple trails.... loved it.....

I always had great fun every time I went there. It is always fresh and new. It had multiple trails and a whole lot of place to walk and explore. We took the fast pass so we did not have to wait in line. We tried all the trails and all was scary, creepy and fun. At the end we feel quite exhausted. The entire setting has a family friendly atmosphere and it manages to instill the mood for Halloween. It was with all the effort.

| | |
| --- | --- |
| Scare Factor: | |
| Fun Factor: | |
| Haunt Value: | |

Posted October 2018

Email Verified

Fantastic

It was awesome! Drove 2 hours with family and the experience from the haunt was worth the drive. We had the VIP bundle pass which helps us to skip the long queues at the entry. All of us were really impressed with the haunt and its sets. My wife got scared many times, she even screamed couple of times. The layout also makes it pretty easy to get spooked by actors seemingly coming from nowhere. Highly recommended for all scare seekers!

| | |
| --- | --- |
| Scare Factor: | |
| Fun Factor: | |
| Haunt Value: | |

Posted October 2018

Great experience!!

Great experience! Went with my friends and we had a blast! The sets were amazing and also the animatronics too has been great. The waiting time has been quite long than we expected, but the experience from the haunt was worth it. The whole actors were amazing with unexpected scares and fun. Each one of the three attractions were great with many memorable moments. It has been really funny watching my friends getting scared and refusing to make a move on because of fear. Will definitely be back for the next season.

| | |
| --- | --- |
| Scare Factor: | |
| Fun Factor: | |
| Haunt Value: | |

Posted October 2018

Email Verified

Lots of scares!

Great time! A lot of scares! The trail was awesome and full of characters with lot of detail and different scenarios.

| | |
| --- | --- |
| Scare Factor: | |
| Fun Factor: | |
| Haunt Value: | |

Posted September 2018

Excellent and Friendly Staff

Dead Land Haunted Woods was awesome. We all had a blast. The Curse and The Portal were both so much of fun. This has been the best haunted attraction I have ever been to and the experience was to the best. The actors were great, as well as the props and the make up. Though we visited all the 3 attractions, The Portal Trail was the scariest and the best. It is a lovely place which is priced reasonably. The staff was very helpful that the actors would even unmask in case someone got very scared. You guys rock.

| | |
| --- | --- |
| Scare Factor: | |
| Fun Factor: | |
| Haunt Value: | |

Posted November 2017

Email Verified

Dead Land Horror

I visited this place yesterday and I must confirm that the Dead Lands is much better than any other haunted house. There are a total of four attractions in which I loved the most is the Portal and the Curse. They make even people who are not scared to screams out of fear. The Crypt was fantastic with the special effects. They even had two new escape rooms where although we escaped one but got stuck in the other. We had a great night.

| | |
| --- | --- |
| Scare Factor: | |
| Fun Factor: | |
| Haunt Value: | |

Posted November 2017

Awesome Experience

Great trails and excellent use of space to set up multiple attractions. The actors were amazing and my girlfriend had an anxiety level phobia of clowns and she had a wonderful time and I was just enjoying looking at her nervousness. The trail in the wood lasted for 30 minutes and we had substantial interaction with the actors draped in the costumes of monsters and zombies. The walkthrough was confusing and it was fun to encounter monsters without any clue. Besides this, there were buffer time between groups entering the attraction to avoid the overlapping and providing sufficient time to actors to reach their starting position. Last, but not the least, escape room puzzles were damn challenging and it was fun to solve it in less than five minutes. Awesome experience at Dead Land haunted woods. Can't wait to visit next year!!

| | |
| --- | --- |
| Scare Factor: | |
| Fun Factor: | |
| Haunt Value: | |

Posted November 2017

Extremely Frightening

One of the best haunted attractions I visited during Halloween. I with my GF had to wait in the line for 1 hour. But the experiences were worth the wait. The Crypt was super scary. Wolves in the trail were extreme frightening. Escape rooms were challenging. Riddles and puzzles of the escape rooms really confused us. Our group really scratched our brains to find the way out. The haunted woods as well as the priest lake were terrifying experiences. Creepy characters behind the woods really scared the crap out of us. Youngsters and kids will definitely love the Jason Doll. For me the Portal Trail was the best and scariest. The Curse Trail was also quite scary. Recommend this place.

| | |
| --- | --- |
| Scare Factor: | |
| Fun Factor: | |
| Haunt Value: | |

Posted November 2017

Incredible

I am a tough guy who don't get scared easily. But Dead Land took me by surprise. It startled me few times. The actors were amazing. Slender man and the Bride was really scary characters. Bullet room was incredible. The trail had some hidden scares and frightening props. The escape rooms was challenging. To sum it up, a good place for all haunted enthusiasts. Enjoyed the visit.

| | |
| --- | --- |
| Scare Factor: | |
| Fun Factor: | |
| Haunt Value: | |

Posted November 2017

Unique Experience

Me and wife had a blast at Dead Land Haunted Woods. Both the trails were different and unique..it changed a lot since our past visits. Portal trail gave us some great scares. Escape Rooms tested our intelligence too. Jason doll gave us some nice scares. Some creepy characters chased her through the woods. Costumes and makeups were great. Really had an amazing time. For the terrors we saw, price per head was reasonable. Definitely we will be back.

| | |
| --- | --- |
| Scare Factor: | |
| Fun Factor: | |
| Haunt Value: | |

Posted October 2017

Repetitive Nothing New

Went this season and lost interest in haunted attractions. It was repetitive and nothing new. Pop scares with props and actors jump out scares were the usual one that was present in the event. The walk in the woods was very tedious with low light and too much darkness. The staff lacked courteousness. Too few options at the food and drink and most of them were overpriced. This is something everybody should avoid.

| | |
| --- | --- |
| Scare Factor: | |
| Fun Factor: | |
| Haunt Value: | |

Posted October 2017

Email Verified

Scariest Experience

True to its name, this place is a collection of four attractions. We visited this last weekend in a group of six and we had a blast! All four attractions were just amazing, the curse was the scariest as walk of half mile in the woods was really dreading. All the actors hiding behind the woods were just awesome and we were terrified like anything. Also, cemetery was frightening and an interactive haunt. We screamed a lot here and it was fun. Highly recommended!

| | |
| --- | --- |
| Scare Factor: | |
| Fun Factor: | |
| Haunt Value: | |

Posted October 2017

Email Verified

Damn Scary

One of the favorite haunted house! Scariest of all and encompasses four different attractions and all of them have highly skilled professional actors. We did the walk through the forest woods and it was damn scary. Excellent set up design and perfect use of special effects along with background theme play was so scaring that many of us were holding each other hand so tightly. Besides this, we did the escape room which we failed to solve as recollecting clues from a movie wasn't easy. But, it was fun and we enjoyed a lot. Kudos to Dead Land team for executing such a wonderful event.

| | |
| --- | --- |
| Scare Factor: | |
| Fun Factor: | |
| Haunt Value: | |

Posted October 2017

Email Verified

Haunting Night Adventure

This place is one of the best haunted places I have been so far. It has been set up with some great trails. The actors were amazing. This place is just awesome. I went through all the haunts, and they were all incredible. The props, the actors and the staff were super awesome. I cannot remember the last time I screamed out so loud feeling scared really. It is definitely your money's worth. I still can't wait to go back next year.

| | |
| --- | --- |
| Scare Factor: | |
| Fun Factor: | |
| Haunt Value: | |

Posted October 2017

View all Dead Land Haunted Woods Reviews
All information on this page was submitted to Tennessee Haunted Houses and was believed to be accurate at the time it was posted. Please report any inaccuracies
here
.